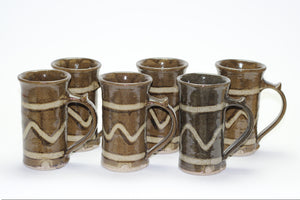 This tall woodfired mug is glazed in a quiet green with a finger-comb decoration. It has the heft of old-fashioned 'diner' coffee mugs, designed to stand up to years of everyday use. . The handle features a 'thumb stop'  that makes this mug extra comfortable to hold. Approximate capacity is 16 oz.
Dimensions: 6" H x 3" Dia.
NOTE: We have five of these in stock.
All in one price includes FREE packing, handling, insurance and standard shipping to anywhere in the continental US!