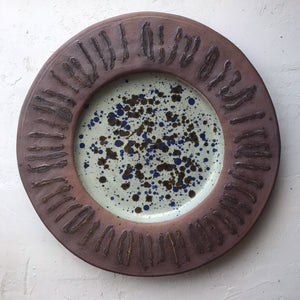 The rim of this unusual platter is decorated with ghost images of hollyhock stalks set on the platter before firing. All that remains after firing is the ash of the hollyhock stalks melted into a self-glazed pattern.
The center is glazed white with cobalt and iron speckles. A stunning conversation piece!
19" in diameter by 2.5" high. A stainless steel cable loop, that does not interfere with functional use, is affixed through the footring on the back of the platter to facilitate wall display, indoors or out.