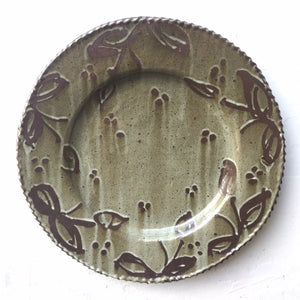 Clear glaze flowing over wax-resist on brown slip glaze.
This spectacular platter with a traditional 'pebbled' rim has large, speckled dots throughout the foliage, like the grape vines here at Phantom Canyon Ranch in the late summer months. Wine making season is around the corner!

19" in diameter by 2.5" high. A stainless steel cable loop, that does not interfere with functional use, is affixed through the footring on the back of the platter to facilitate wall display, indoors or out.