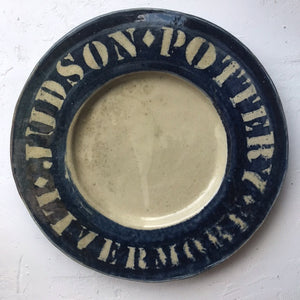 Clear ash glaze over white slip with stenciled deep cobalt blue overglaze trademark.
Want to support and represent a 50+ year old traditional ceramic studio located in Colorado? This is a great display platter marking one of the oldest potteries in the U.S. to carry forward the traditional methods of American folk pottery. Hand-cut stencils were occasionally applied to large or unusual pieces like this in 19th Century American stoneware potteries.
19" in diameter by 2.5" high. A stainless steel cable loop, that does not interfere with functional use, is affixed through the footring on the back of the platter to facilitate wall display, indoors or out.