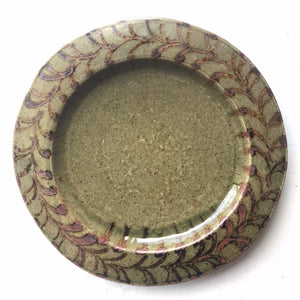 Clear ash glaze over wax-resist on brown slip glaze.
Beautiful chevrons line the rim of this platter, stacked and slightly curved to suit the organic nature of handmade ware.
19" in diameter by 2.5" high. A stainless steel cable loop, that does not interfere with functional use, is affixed through the footring on the back of the platter to facilitate wall display, inside or out.