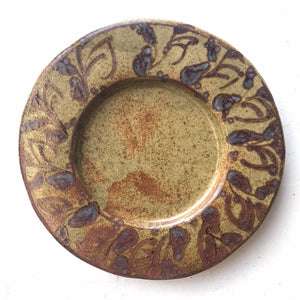 Red iron decoration applied with freehand brushwork on mottled ash glaze.
This rich iron and green platter is a great addition for fall festivities, belonging among the orange and red leaves falling from the trees as cooler seasons approach.
19" in diameter by 2.5" high. A stainless steel cable loop, that does not interfere with functional use, is affixed through the footring on the back of the platter to facilitate wall display, indoors or out.