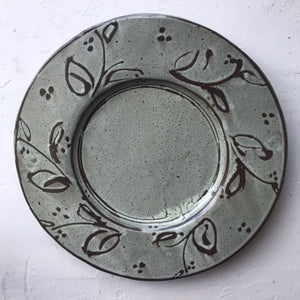 The clear ash glaze, fired at a slightly lower temerature is quite opaque here, creating a contrast over the dark brown slip glaze revealed in a stylized 'milkweed' pattern - one of Sarah's favorites.
This beautiful rich iron pattern appears to be swallowed by the milky white glaze above, as if there is more underneath the surface.
19" in diameter by 2.5" high. A stainless steel cable loop, that does not interfere with functional use, is affixed through the footring on the back of the platter to facilitate wall display, indoors or out.